Description
Bardekova Ensemble Concert
Location
Woolworth Chapel, Woodlawn Cemetery, Jerome Avenue Entrance.
Date & Time
Sunday, November 7, 2021 3:00 PM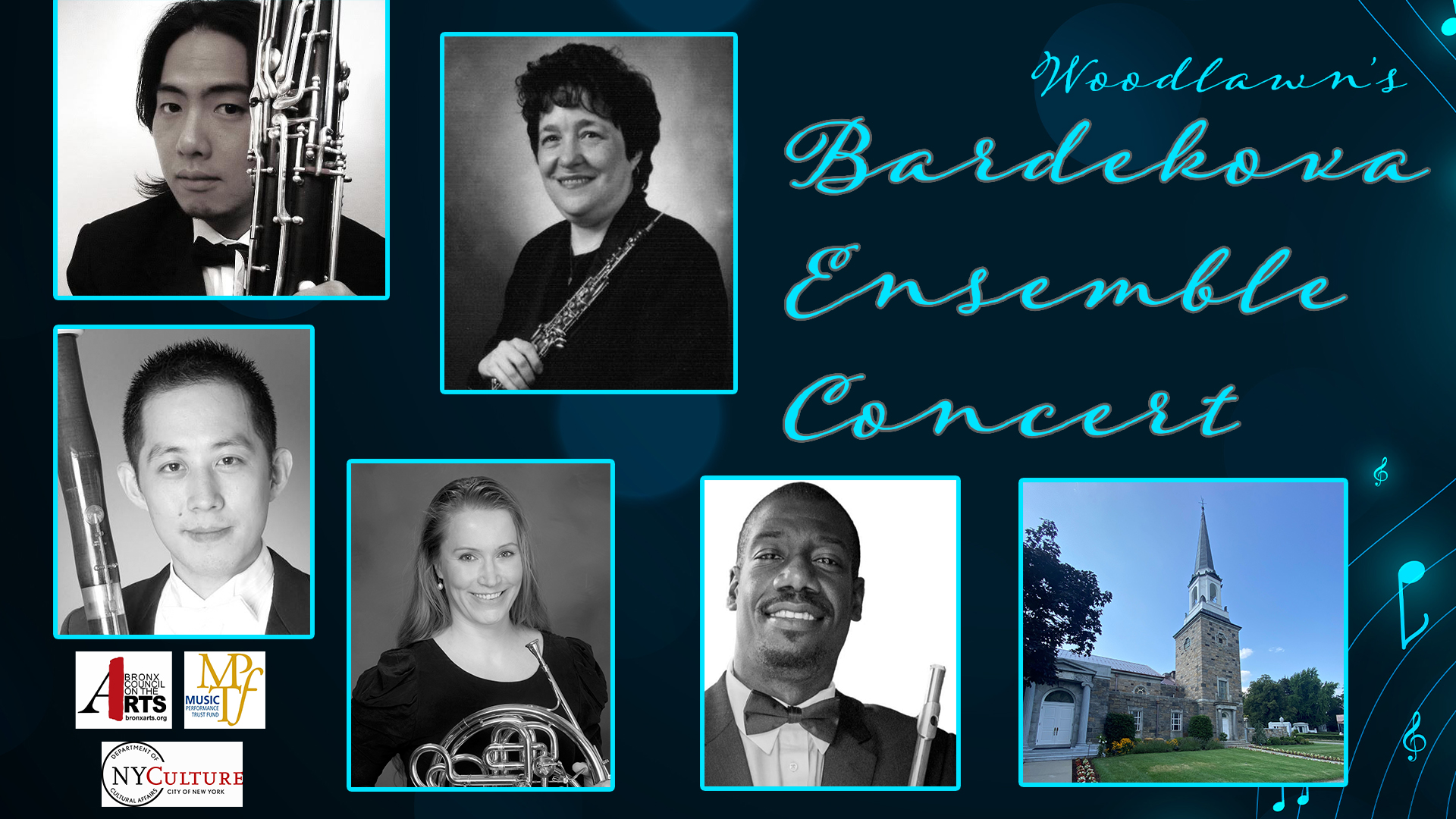 Saturday, November 7, 3:00 PM
Bardekova Ensemble
Ellen Bardekoff is the founder and oboist of the Bardekova Ensemble.
 The Bardekova Ensemble is a non-profit organization whose mission is to bring free and/or moderately priced concerts to all ages and economic levels in the Bronx. The group has won over 50 awards for 38 concert series in the Bronx with the Department of Cultural Affairs, Community Arts Grant, and The Music Performance Trust Fund
 Members of the group have performed with members of the New York Philharmonic, and the Metropolitan Opera.  They have also played with the Goldovsky Opera Company, the Steve Reich Ensemble as well as other notable performing organizations. They have recorded with ECM, Nonesuch, Grenadilla and the Et Cetera record companies.
Ellen Bardekoff began her piano studies at the age of eight, at the Juilliard School. She started her studies on oboe with Lois Wann. She later studied with Sherry Syler of the New York Philharmonic. She received her Bachelor of Music Degree from Queens College, a Post Graduate Diploma from The Juilliard School, and a Master of Arts from New York University. While at Queens College Ms Bardekoff won first prize playing oboe in a concerto competition and received the Adele Lerner Award for Chamber Music. She received the N.E. Scholarship for Chamber Music at New York University. Ms Bardekoff was a founding member of the Dover Woodwind Quintet in residence at the Waterloo Music Festival, directed by Gerard Schwartz. She has performed with The Steve Reich Ensemble both within the U.S. and Europe and has toured the U.S. as principal oboe of the Goldovsky Opera Company. Additionally, she has performed as a chamber and orchestral musician with the Egger Begegnungen Festival Orchestra in Egg Austria, the Orpheus Ensemble, and as principal oboe with the Nota Bene Ensemble. Ms Bardekoff was principal oboe of The Bronx Symphony Orchestra. Ms Bardekoff's many recordings include Tehillim by Steve Reich, (E.C.M. Records and CD); Desert Music Album (Nonesuch Records); The Villa Lobos Society recording of KTC 1144, and on Grenadilla Records as principal oboist of the Nota Bene Ensemble. Ms Bardekoff can also be heard on recordings of The Bardekova Ensemble of which she is a founding member, and artistic director.